These are are three of our past parties and it is my decoration for this party! I am also trying to gather my thoughts and creativity to celebrate my son's b-day next week..he'll be 7!
I have been intending to invite you to
this
party!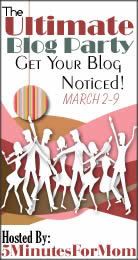 And I will inroduce myself too and I hope to get to know you more as well.
I have been married for almost 10 years and have 4 children. I had been in Mexico for 12 years as a missionary to the deaf. Which is where I meet my husband (who is hard of hearing himself) We have been off the mission field for about a year now and I have been working full time as an interpreter for the deaf in TX. Looking back over my life I have done so many things that I thought I would never have done or accomlished. Like going to a foreign country without knowing the language or any of the people I'd be working with. Or like now, I never thought that once I had kids that I would be a working mom. As in a 9-5 job and sometimes overtime and my husband staying home and doing the homeschooling, cooking and etc.. But alas it is the season of life we are in. I believe children truly are a blessing from God and I love mine dearly! My blog is usually and mostly about my family and personal experiences and the funny things my kids say and do ... and then some!